Top 5 specialty food in the South of Vietnam
There are a large number of specialties in Vietnam that are not only famous in this country but also all over the world. Each region of Vietnam has its own special food. In this article, we will introduce you 5 unique dishes in the South of Vietnam that you shouldn't miss if having a chance to visit this region.
1. Pho
Pho is the most popular traditional dish in Vietnam. It is preferred not only by locals but also most foreigners all over the world. It can be said that your trip to Vietnam is not complete without trying any Pho.
Noodles used for Pho is flat rice ones. The broth of Pho is cooked quite complex and normally takes some hours to prepare. When Pho is served, they often top on it with green onions. There is also a range of garnishes to add while you are eating such as limes, bean sprouts, some vegetable, pepper, and Hoisin sauce. If you love it spicy, Shacha sauce, sliced chilies, and chili sauce will suit you well.
There are plentiful types of Pho for you to choose. However, Pho usually goes with fillet, beefballs, brisket, flank, tripe. And of course, it doesn't matter if you want all types of beef above, just try a bowl of Pho Thap Cam.
The taste of Pho in Hanoi and Saigon is different because of noodle width, the sweetness of broth, and choice of herbs.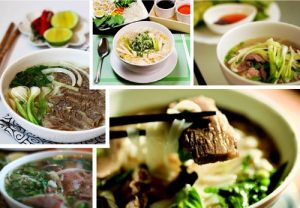 2. Banh Mi
Along with Pho, Banh Mi is a specialty that you must try when coming to the south region of Vietnam. The Vietnamese Banh Mi has been popular around the world and you can find it in many other countries. But if you want the original, the best and by far the cheapest version you have to try it here in Vietnam. Wandering on the street, it is easy to find out someone selling Banh Mi.
There are a lot of Banh Mi versions as the main ingredients are different such as pork, chicken, sardines, ham, and fried eggs. Beside those ingredients, Vietnamese Banh Mi is often added with various extra like pate, mayonnaise, and pickled carrots. The taste of Banh Mi depends on where you buy it because every seller usually has the separate recipe.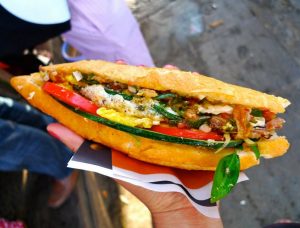 3. Com Tam
Com Tam is one of the most well-known specialties Southern Vietnam. In the past, this dish was often served for Vietnamese farmers at home since this kind of rice used for Com Tam couldn't been sold in the markets. However, it has been more and more popular with the locals and is no longer just for farmers.
The main ingredient of Com Tam is the broken rice. This type of rice look like normal rice, but it is broken into small pieces. The dish is usually served with a various combination such as grilled pork steak, shredded pork mixed with pork skin, pork and egg pie, and fried eggs. On the top of it, there are diced green onions in oil. On the side, there are pickled vegetables, sliced cucumber, and tomato. When enjoying Com Tam, fish sauce is usually added.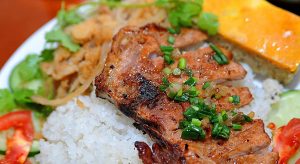 4. Bun Thit Nuong
Talking about cold rice-vermicelli noodle dished, Bun Thit Nuong should be counted. It is hard to find an individual that dislike this kind of food. With the brightly colored and good flavor, this dish is a must-try specialty served in the South of Vietnam.
Bun in this dish is a thin white noodle made of rice. Then, they will add grilled pork, fresh herbs such as basil and mint, fresh salad, bean sprouts, and chopped peanuts. It is possible to try Bun with spring rolls or grilled lemongrass pork. Fish sauce will be poured into your bowl when you eat.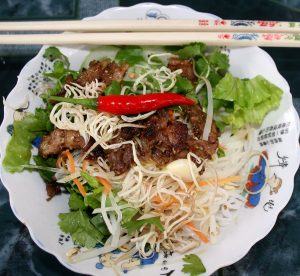 5. Hu Tieu
Hu Tieu is the popular local food in this region. Hu Tieu is a kind of noodle in Vietnam which is flat and also made of rice. The broth is one of the most important part of this dish. It is made from pork, stew in a couple of time to have light and sweet flavor. There are various recipes of Hu Tieu in Southern Vietnam such as Hu Tieu Nam Vang, and Hu Tieu Xuong. Toppings can be slices of pork, a whole pork chop, meatballs, shrimp, or squid. You can enjoy a bowl of hu tieu with lettuces, chives, shredded vegetables and so on.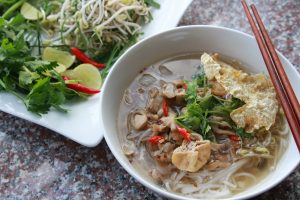 These are 5 specialties in Southern Vietnam. Try them and you will fall in love with them easily and naturally. But please remember to check out Vietnam visa requirements in advance to see if your nationality is required to get a valid Vietnam visa.