Product Review Indonesia eSIM – Prepaid data plan for travelers – Gigago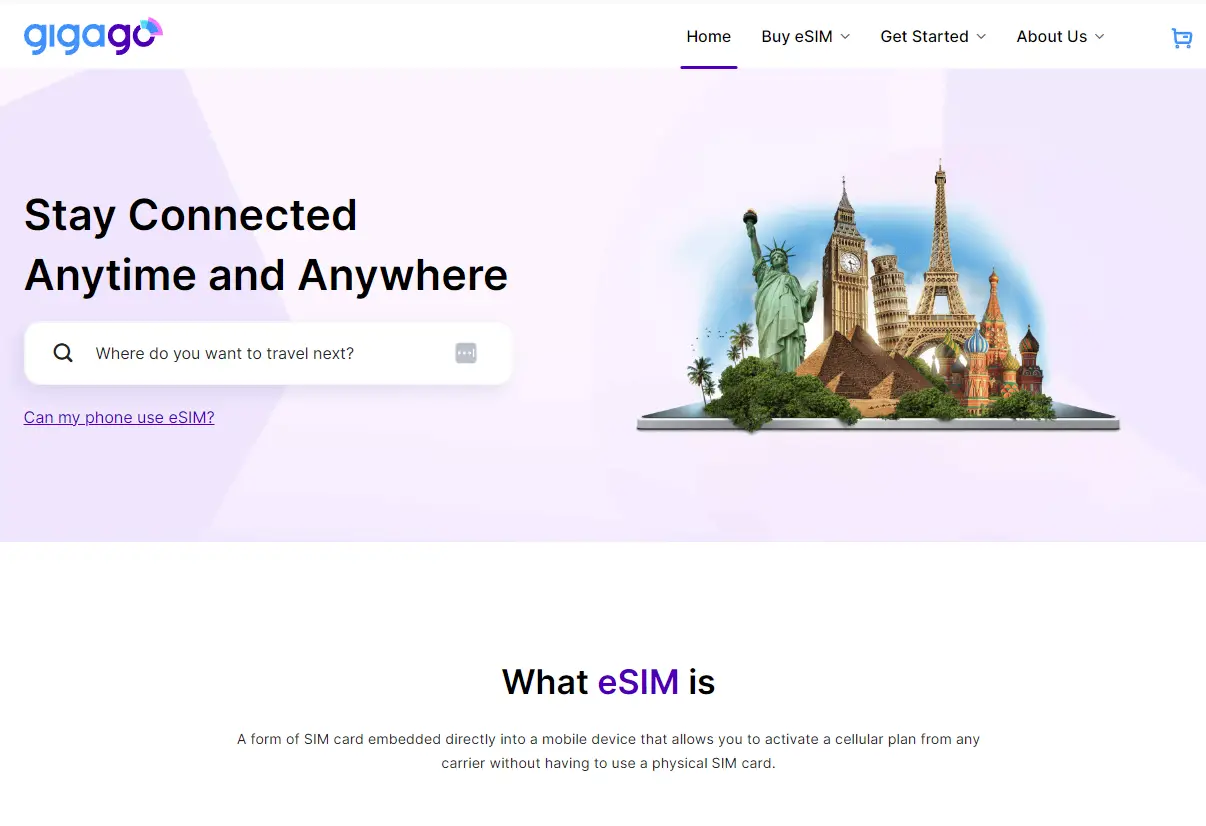 Are you tired of expensive roaming charges when traveling to Indonesia? Do you want a hassle-free way to stay connected without changing your SIM card? Look no further! Gigago's Indonesia eSIM is here to save the day. This prepaid data plan offers convenience, affordability, and excellent coverage throughout Indonesia. In this review, we will delve into the features, benefits, and user experience of the Indonesia eSIM.
Installation and Activation Made Easy
One of the greatest strengths of the Indonesia eSIM is its effortless installation process. Unlike traditional SIM cards that require physical handling, the eSIM can be installed digitally in a matter of minutes. Simply scan the QR code or enter the installation code manually, and voila! You are ready to activate your eSIM and start using it as soon as you land in Indonesia. It is recommended to install the eSIM one day before departure to ensure a smooth transition upon arrival.
Once your device connects to a supported cellular network, the eSIM automatically activates itself, eliminating the need for manual intervention. This seamless activation process adds convenience and ensures that you are connected instantly, allowing you to focus on enjoying your trip rather than dealing with technicalities.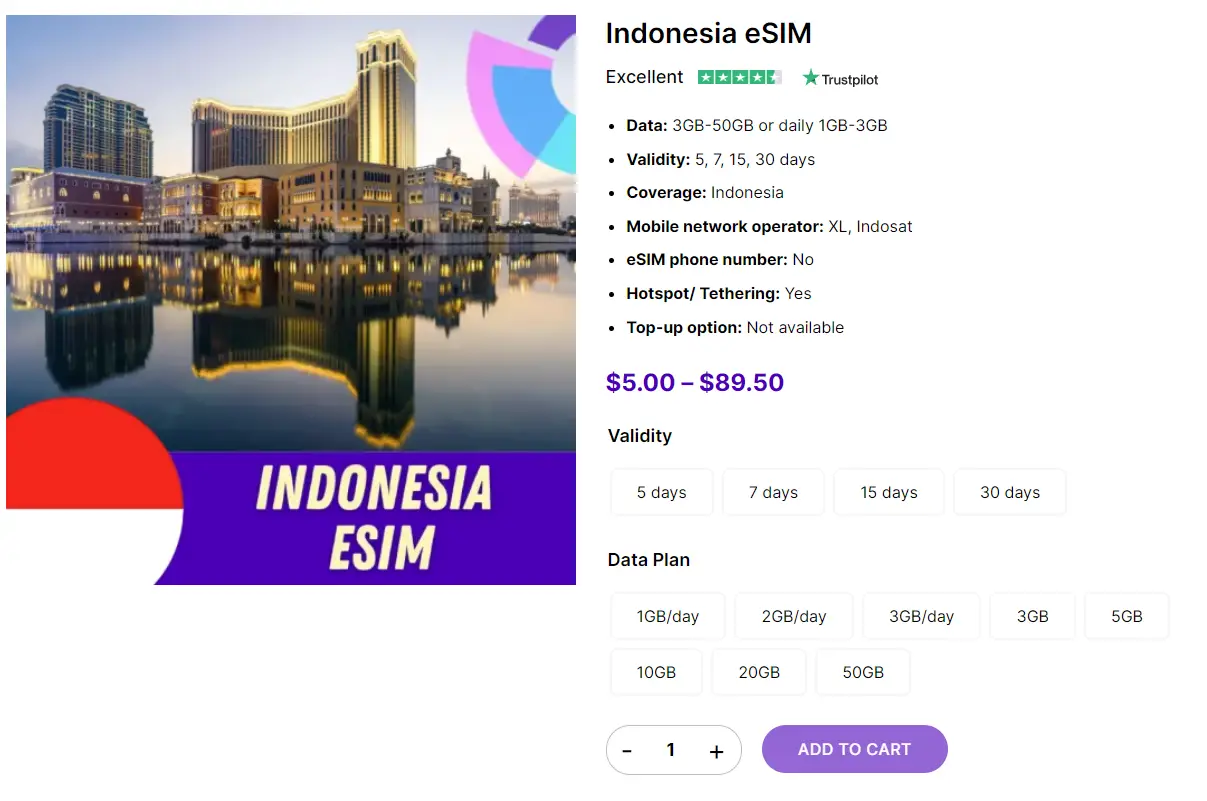 Affordable pricing and a wide range of options
3GB – 5 days – $5
10GB – 15 days – $16.6
20GB – 30 days – 33.5
Impressive Coverage and Internet Speed
Gigago's Indonesia eSIM boasts extensive coverage across all destinations in Indonesia. Whether you're exploring the bustling streets of Jakarta, relaxing on the beautiful beaches of Bali, or immersing yourself in the cultural heritage of Yogyakarta, rest assured that your eSIM will keep you connected anytime, anywhere. Say goodbye to the frustration of weak signals or no coverage areas; with the Indonesia eSIM, you can rely on a stable and consistent connection throughout your journey.
In terms of internet speed, Gigago promises a high-quality experience. Expect to enjoy 4G/LTE/5G speeds, ensuring fast and reliable data access for all your online activities. Stream videos, browse the web, stay active on social media, or even work remotely – this eSIM has got you covered. In the rare event that your maximum speed data usage exceeds the limit, don't worry; Gigago still provides unlimited data at a reduced speed of 128kbps, allowing you to stay connected even after surpassing your data cap.
Free Roaming and Cost Savings
One of the most significant advantages of using the Indonesia eSIM is the elimination of data roaming charges. By choosing this prepaid data plan, you can save up to 100% on roaming fees that would otherwise accumulate while traveling. Gone are the days of shockingly high phone bills upon returning from an overseas trip. With Gigago's eSIM, you can comfortably make calls and send texts using popular messaging apps like WhatsApp, Telegram, Facetime, and more, without incurring additional costs.
The financial benefits extend beyond just data roaming charges. By opting for the Indonesia eSIM, you avoid the need to purchase local SIM cards, which often come with activation fees and minimum balance requirements. Furthermore, there's no need to worry about currency exchange rates or finding a physical store to buy a SIM card upon arrival. The eSIM is conveniently delivered via email within minutes after purchase, making it an ideal choice for travelers seeking instant connectivity without any hassle.
Outstanding Customer Support
Prompt and reliable customer support is crucial when dealing with digital services, especially during travel. Gigago understands this well and offers 24/7 assistance to ensure a smooth user experience. Whether you have questions about installation, activation, troubleshooting, or general inquiries, their dedicated team is ready to assist you. Reach out to them via chat or email, and rest assured that your concerns will be addressed promptly and professionally.
The availability of round-the-clock technical support is particularly beneficial for travelers who may encounter unforeseen issues while installing or using the eSIM. Instead of being left to fend forthemselves, Gigago's customer support team is available at any time to provide guidance and solutions.
Gigago's commitment to outstanding customer support extends beyond just being available around the clock. Their team is knowledgeable and well-equipped to handle a wide range of inquiries. Whether it's assisting with the installation process, troubleshooting connectivity issues, or answering general questions, they are dedicated to ensuring that customers have a positive experience.
Communication with Gigago's customer support team is easy and convenient. You can choose to reach out to them via chat or email, whichever method suits your preference. No matter how you contact them, you can expect a prompt response and professional assistance.
Having reliable customer support is vital for any digital service, especially when it comes to travel-related services like eSIMs. Travelers often encounter unexpected challenges while on the go, and having access to 24/7 technical support can help resolve these issues quickly and efficiently.
In summary, Gigago's outstanding customer support ensures that users have a seamless experience with their digital services. With round-the-clock availability, knowledgeable staff, and convenient communication channels, Gigago is committed to addressing customer concerns promptly and professionally.