Guide to travel to Southwest Vietnam in flooding season
After September is the flooding season of the Southwest. The culture of flooding season does not focus on a single place but is spread over the Mekong Delta provinces.
Tram Chim National park (Dong Thap) is a destination you should visit. Sailing in the immense fields of water hyacinth and watching thousands of storks flying in sunset are unforgettable experiences. Do not forget to enjoy specialties here such as Cao Lanh field-mouse, "Bat Kinh" anabas and visit Xeo Quyt on "Nam Quang" boat. Additionally, Go Thap lotus field – the largest lotus field in the Southwest – with millions of fragrant pink lotuses also deserving of your eyes. Sailing a small boat through expanse of lotuses will surely bring you a great feeling.
It is an incomplete discovery of the flooding season without going to Bung Binh Thien Lake in Quoc Thai Commune, An Phu, An Giang, which is adjacent to the Vietnam – Cambodia border. You should walk on the quaint village streets leading to the holy river wharf in front of a mosque to take in the peaceful life. Cham girls with black scarves covering their faces make the culture of this place more mysterious.
Tra Su cajuput forest is a great destination in An Giang to discover. The boat splits the green water-fern carpet as yougo; with the green color of cajuput trunks combining with the blue color of the sky to create a cool and peaceful space.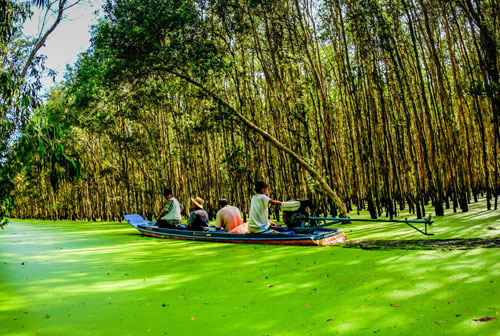 To have a clear view of the scenery in flooding season, you can drive a motorbike along Vinh Te canal bisecting the Vietnam – Cambodia border. Normally, the canal is only about ten meters wide, but in flooding season it can widen to tens of kilometers as if it were a "sea" in the mainland.
Travel Note:
The flooding season is also the raining season so you should prepare a raincoat. It is advisable not to use a batwing raincoat because it is dangerous when driving in windy weather. Waterproof backpacks, bags or wraps and waterproof shoes should be brought.
Nice routes to discover in flooding season: Ho Chi Minh City – N2 Road – Truong Xuan – Hong Ngu – Thuong Thoi Tien – Thuong Phuoc – Vinh Xuong – Thai An – Bung Binh Thien – Chau Doc – Vinh Te Canal – Ba Chuc Tomb – Tra Su cajuput forest – Tram Chim National Park – Sa Dec – Tien Giang – Ho Chi Minh City.
Things to eat in the Southwest:
Grilled field-mouse, grilled snakehead fish with claypot (on the journey); fish porridge hotpot in Chau Doc; dishes made from lotus such as boiled lotus seeds, sticky rice wrapped in lotus leaf, anabas rolled in tender lotus leaf, fermented "ca linh" served with lotus stem, "ca linh" hotpot, "ca linh" sizzling cake and braised snakehead fish. These dishes can be easily found anywhere of the Southwest in flooding season.
Things to see in the Southwest:
Water lily fields along N2 Road
The buffalo boy with hundreds of buffalos in water fields in Thuong Thoi Tien
The sea in Vietnam – Cambodia border in Vinh Xuong, Thai An and along Vinh Te Canal
Immense paddy fields in Ba Chuc, Tri Ton, An Giang
Alluring water-fern carpets in Tra Su cajuput forest. Ticket price: 70,000VND/person. You should go in a group to reduce the cost.
Tram Chim National Park teeming with birds
Watch people catch specialties of flooding season such as snakes, fish, crabs, and field-mouse over the Southwest
How  to get there:

From HCMC, you can get on Phuong Trang or Mai Linh bus to all of Southwest provinces conveniently, fast and safely.

It is possible to go by motorbike to discover all the ways. If going by bus, getting to your destinations, you can rent a motorbike from motor-taxi drivers or hotels. The rental fee is 150,000-200,000VND/day.

Where to stay:

Most mini hotels and motels in the Southwest are in the price range of 150,000-200,000VND with pretty small rooms. They can be easily found in city or district center.